---
Hardware Setup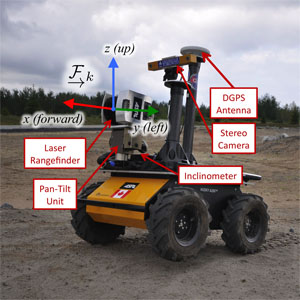 The Clearpath Husky A200 used to gather the dataset carried a number of payloads. The relevant payloads for this dataset consisted of a vertically-scanning SICK LMS291-S05 laser rangefinder mounted on a Schunk PW70 pan-tilt unit to produce the 3D scans, a Honeywell HMR3000 inclinometer to measure rover inclination, a Point Grey Bumblebee XB3 stereo camera for visual odometry, and a DGPS antenna for ground truth positioning.
The laser scanner was configured for a vertical angular resolution of 0.5°, and the scans were constructed by linearly interpolating the pan positions of the laser slices through the slow 360° scan sweep. Based on the manufacturer's specifications, the SICK LMS291-S05 has a range measurement standard deviation of 0.01m.
As depicted in the figure to the right, the scan reference frame was defined to be the laser rangefinder center, with +x pointing forward, +y to the left, and +z up. The inclinometer sat on the rover top plate, and the stereo visual odometry estimates were transformed into the laser sensor frame.